Posted by Terry Mixon in
Book Reviews
,
Terry
on Apr 9th, 2011 |
no responses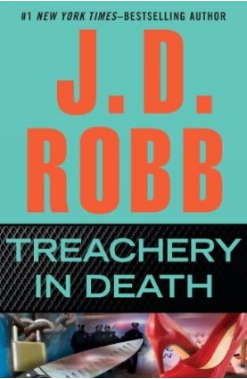 From Publishers Weekly
Starred Review. Lt. Eve Dallas and her squad take on corrupt cops in Robb's 33rd full-length novel featuring the New York Police and Security Dept. homicide detective (after Indulgence in Death), a fast-paced, intricate, and deadly dance of well-matched opponents. When Dallas's partner, Det. Delia Peabody, overhears an angry exchange between Lt. Rene Oberman and Det. William Garnet that reveals an unlawful killing and ongoing skimming, Dallas's reaction to this news is decisive: "the blue line breaks for wrong cops." The setting may be slightly futuristic, but the procedures are familiar: Dallas puts together a solid team that meets in her home to avoid leaks as they compile evidence. At the same time, she initiates confrontations with the dangerous Oberman, whom she begins pushing toward a trap. From this pure good guys versus bad guys scenario, Robb (aka Nora Roberts) wrings plenty of exciting strokes and counterstrokes before reaching the satisfying climax. (Feb.)
As said above, Treachery in Death is the thirty-third full-length book in the In Death series.
Be advised, there might be some minor spoilers below.
Set about fifty years in our future, the world that Eve Dallas lives and works in as a Homicide Lieutenant in the Big Apple is noticeably different from ours, yet very much the same when it comes to the kind of criminals the police protect society from. Society has outlawed lethal weapons, but that hardly seems to slow the bad guys down. Forensics has improved to an astonishing degree, yet the smart criminals always seem to be a step ahead.
In this book, the criminal elements wear badges just like Dallas does. When her partner, Peabody, overhears a conversation she shouldn't have, the wheels start spinning to stop the bad cops before they kill again. The cast of characters readers of this series know well once more leaps into action to get the evidence they need to stop the bad guys.
This book, unlike the earlier ones in the series, starts off with Dallas (and the reader) knowing exactly who is guilty and of what. All they have to do is prove it. That quickly becomes very predictable. Not one single thing in this book caught me off guard. I spotted all the turns long before they make their foregone appearance. I can't say twists really as there were none. The book is well written structurally, but the story is flat.
It's sad for me, really. The lack of tension left me totally unconcerned for anyone's safety. There was no threat to keep the tension high. In fact, there really wasn't much tension. Perhaps the author was trying to break the formula of the long running series to get a change of pace. She did that, just not to her benefit.
I'll be waiting for her next book in this series, but with the expectation that it has to be better.
I give Treachery in Death three stars.
Leave a Reply